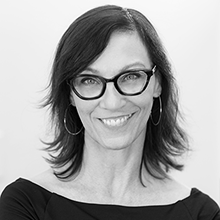 My digital career began at HumanCode with the team that delivered the first LeapFrog smart toy. The technology was then first of its kind, with customized learning and assessment content and a companion site with full e-commerce functionality. In the years that followed the product won numerous awards. I've been fortunate over the last two decades to continue to work with great brands and truly remarkable talent shaping user experiences in entertainment, healthcare, financial services and transportation.
In my tenure at TNS+D I've had the opportunity to broaden my research capabilities to lead usability and generative studies to inform design through the voice of the user and drive product innovation. My recent client work covers the spectrum from investigating opportunities for IoT in restaurants to solving transportation challenges for car-free millennials to identifying millennial requirements for cross channel financial experiences.
I have always loved understanding and immersing myself in different human experiences which fuels and supports my passion for research - and likely explains my colorful pre-digital work history. My secret resume includes stints as performance artist, cannery worker, little league coach, skeet referee, construction worker, master printer in a lithography studio, chef, band manager, environmental activist and singing gorilla.
When I am not in the field doing research, you'll find me throwing dinner parties, drawing and taking beach trips with my humans and our dogs.
Clients