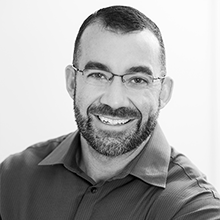 I got into research and design because I'm a stickler for efficiency and finding ways to solve problems to ensure my designs enable more efficient usage models. This led me to Dell's Usability team where I started as an intern and helped grow that team from 4 to over 100+ globally over 10+ years. I'm most proud of the work I did for the U.S. Army designing tools to make warfighters safer and better able to achieve their goals with minimal negative impact.
One of the more interesting projects was the contextual inquiry work I did for Getty Images for their Nascar team over the course of a typical race week at Virginia Motor Speedway.
When I'm not designing, I'm either teaching or with my wife on our motorcycle.
Clients